The State of Hawaii – and many other states across the United States – are in a total technological hurt bag.
There is more at stake here than just solving for COVID; this is also how we make the state's services more resilient and prepared for any natural disaster.
I grew up in the Midwest, where it was common to hear an idiom repeated: Make hay while the sun shines. For those not familiar with the art of making hay, wet weather is problematic. Baling hay when wet can cause all sorts of problems. Which would not be so good come the middle of winter, when you need to feed your livestock. So, it is essential to make hay when it is nice outside, though you most likely would prefer to do other, fun things.
It is safe to say our state and many organizations have not made fair use of the "nice weather" before the global Covid-19 pandemic. There has been work to modernize technology infrastructure, but not with any sense of urgency, nor a real encompassing digital transformation. I am not aware of any planning sessions in which anyone said, "what would happen if one-third of our state population had to apply for unemployment within a single week?". And that is unfortunate.
There is more at stake here than just solving for COVID; this is also how we make the state's services more resilient and prepared for any natural disaster.
OK, so that is how we got here, now what do we do?
Standing on the Shoulders of Giants
We're not alone. Other's are dealing with these same problems and have been successful. We can look to other states and countries that have solved these problems already.
Invite and activate the community; many organizations have volunteers with the skills to implement these technologies. The Code for Hawaii team comes to mind immediately, a brigade of a more extensive national organization Code for America. The city once took advantage of the Code for America program and completed projects like Adopt-a-Siren and Honolulu Answers; unfortunately, those works no longer exist because the city failed to maintain them. However, the brigade, the community organized, sustained result, lives on. State and local leaders fail to activate and engage with local community groups.
State and local leaders fail to activate and engage with local community groups.
A key piece for any successful contract tracing program is exposure notification. Apple and Google have announced joint efforts for such an Application Programming Interface (API). An API is a mechanism with which various software programs can communicate uniformly. These particular APIs are only available to Federal or State public health authorities– so this limits what civic-minded developers can do to help. However, if DoH was to engage with the Code for Hawaii brigade officially, they could enable access to these APIs, and the unit could quickly build the state a contract tracing app.
I believe we can sum up these technology challenges as a lack of diversity – diversity of ideas, precisely – a direct result of having a single party controlling State politics for so long.
Additionally, there is what I call a paradigm of impossibility when folks aren't exposed to new ideas; they don't realize what is possible or think modern technology is too advanced to use. If kept in a tight channel, or when the IT staff is the "department of no," people can't recognize when a new option is available; I like Arthur C Clarke's quote: "Any sufficiently advanced technology is indistinguishable from magic." And in this case, the state lacks the imagination to conjure up any magic right now.
Also, I did not write this to point out blame, but it is safe to say Governor David Ige has been front and center for the whole journey. Ige started his political career in 1986; he represented the Pearl City and Aiea communities as a State Representative from 1986 to 1994.
He then moved to the state Senate. Interestingly he served as the chair of the Senate Committee on Ways and Means from 2011 to 2014, arguably one of the most powerful positions in the legislature, controlling spending. Between this and his current role as Governor, he has had ample opportunity to influence the state's technology roadmap.
Politics aside, here we are, not from a lack of planning – but more of a failure to innovate. Sure, the state has had a few big wins in the name of technology modernization, but are they? Is implementing electronic payroll, moving to a modern email platform, and implementing some digital signature tools a win?
I recently watched an interview with the current State CIO Douglas Murdock, published by Transform Hawaii Government. In it, Murdock says, after finishing a five-year Enterprise Resource Planning (ERP) modernization, the state will modernize its time and attendance process. No one would argue that time and attendance do not need to be modernized, but I am surprised that all his available resources have not been redirected to supporting the State's Covid-19 response for now.
But I digress; this was not supposed to be a political essay.
---
By Derek Gabriel, CEO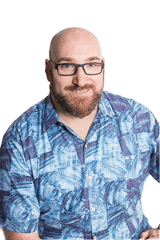 ---